Discover more from Passing Notes
Penning letters to friends about stuff I love and what I wear.
This One Goes Out To The Non-Morning People
6 simple tricks for a less frazzled start to the day.
If you're a longtime blog reader, you know I struggle in the morning. Despite my best efforts to force myself into becoming a morning person, it just hasn't happened yet… and at this point I'm resigned to believe it never will.
I want to squeeze in as much sleep as I can manage — every minute counts! — before I absolutely have to throw myself out of bed. Then once I'm up, I struggle with time management. I can fritter away precious moments on all kinds of stuff: I scroll through Instagram; dawdle around the house tidying up; or take photos of the dogs being cute and text them to my husband. (Who is a morning person, and gets to work a good two hours before me.)
So, I'm a bit of a mess in the morning. It's fine! I really thrive midday, lol.
For my fellow morning strugglers, I have a handful of simple shortcuts to help us do the most in the least amount of time.
Make a Designated Drop Spot
There's nothing more maddening than a frantic keys/phone/wallet search when you're already running behind schedule. You can avoid this mayhem with a defined drop zone. Ours is a small console table by the front door. As soon as I walk in the house, I drop my keys and sunglasses on it. And before I go to bed, I add anything that needs to leave the house with me in the morning: my tote bag, to-do lists, scrawled reminder notes, library books to return, etc. It's all there waiting for me when I head out for the day.
Pack a Lunch the Night Before
I'm trying to get in the habit of bringing a healthy lunch and snacks to work. I find I'm most successful with prepping a lunch if I do it the night before: packing up dinner leftovers; making a big salad with mixed fruit, nuts and goat cheese; or rolling up lean lunch meat with cheese and fresh sliced fruit. These stackable glass containers with snap-on lids are great for the job because they're durable, reusable, and easy to clean. And this black lunch bag is my favorite — it keeps things cold and looks like a chic accessory.
Plan Your Outfits For the Week
Ok, this may be shallow but it's the truth: I feel like the best, most productive version of myself when I love my outfit. But my brain doesn't fire on all cylinders until after 11am, so I like to have options at the ready for stress-free dressing.
Set aside some time on Sunday to plan your style for the week. Consider your work/social calendar, and make a mental note of meetings or events that may require a special look. If you need inspiration, reference your Pinterest style boards or IG saves and recreate outfits with pieces you have in your closet. Then pull your head-to-toe outfits for the entire week. (Use these velvet skirt hangers with clips to pair tops with bottoms.)
Iron as needed, and hang all your week's outfits in a designated place in your closet. Or, if you have the space, get a small clothing rack specifically for your weekly pulls. I have this one from Amazon in my home office and it's great quality for around $100!
Your groggy morning self will thank you, trust me on this one.
Be Your Own Barista
We bought a Nespresso Vertuo Next machine to make our favorite lattes at home. It's been a great investment that C and I both use every day, and skipping the Starbucks drive-thru shaves a lot of time off my morning routine. We like the espresso pods for hot and iced lattes, and Nutpods Cookie Butter vegan creamer + extra creamy oat milk is my current favorite combo.
Corkcicle tumblers come in a fun range of colors, and keep ice frozen for more than 9 hours. They're perfect to take your home coffee creations on-the-go.
Use Bags Within Your Bag
I can't get enough pouches. Bags inside bags are my love language. And when my handbag is organized with all my daily essentials, I feel like I'm ready for anything the day may bring. (Check out An Indigo Day's post on how to organize your purse.)
Lately my everyday tote is organized with clear makeup cases like this one. I can see what's inside, and switch them from handbag to handbag in a snap if I decide to make a quick purse change in the morning.
I'm also a huge fan of my Bandolier iPhone crossbody case with a matching zip-around pouch that holds my phone, card case, car key fob, and lipstick. It carries everything I need so I can ditch the rest of my bag when I want to travel light and hands-free.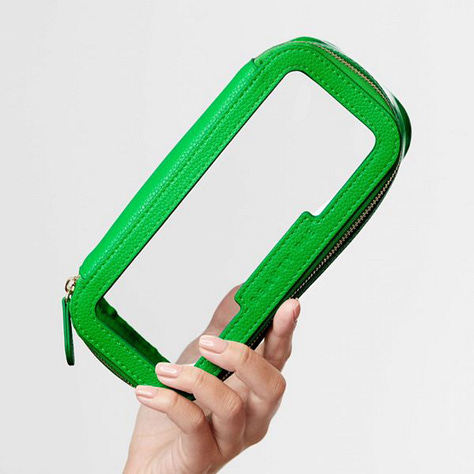 Have Cookies For Breakfast
When I take the time to bake something on Sunday, it's like giving myself a little treat all week! I found this recipe for healthy breakfast cookies years ago. You can make a big batch on the weekend to have something delicious on hand for easy grab-and-go breakfasts. I like that you can customize the recipe with different nuts, dried fruit, and dark chocolate. They're packed with protein and whole grain oats for sustained energy, and pair perfectly with your DIY iced coffee.
. . .
What are your favorite morning shortcuts?
(Seriously, please share them; I need all the help I can get.)
This note contains affiliate links. I may earn a small commission from the retailer if you make a purchase from these links, at no cost to you! Thank you for supporting this newsletter.