Discover more from Passing Notes
Penning letters to friends about stuff I love and what I wear.
Easy Outfit Combinations I Always Wear
5 style recipes that never let me down.
After more than a decade of documenting my style evolution on the Internet, I've settled into a simple, casual aesthetic built around classic wardrobe staples I love. I'm happiest with an edited closet that's thoughtfully stocked with neutral basics, a variety of shapes and colors of denim, structured outerwear, and quality accessories. I really jive with the idea of a daily uniform, and find that I wear a variation of 5 simple outfit combinations through the week.
There's nothing revolutionary here, but I think these simple style combinations are worth sharing. Maybe you're trying to figure out your own casual comfort zone, or you need a few style 'recipes' for the mornings you're in a rush. (Any other non-morning people in the house?) These basic combos always work, and never fail to make me feel pulled together and polished with minimal thought/effort.
Subscribe for future notes, right to your inbox!
A note before we dive in: all of the images are from Mango, my favorite online destination for on-trend outfit inspiration. I don't shop there often — although I do have a fantasy cart filled with stuff I want to buy — but I really like the way they style their pieces. I basically use the site like a giant Pinterest board for OOTD ideas.
(I may actually need these denim and vinyl sandals though.)
Okay, five easy outfit combinations… let's get to it!
1. Double The Denim
I'm a long-time fan of the denim tuxedo. I have a collection of denim shirts and jackets that I like to mix and match with jeans, and you can catch me in this outfit combination at least once a week.
Friends and blog readers often tell me they don't feel confident pulling off an all denim look. Here are three of my top tips for styling a double denim outfit:
Match the denim tones on top and bottom for a monochromatic look; avoid mixing super contrasting light and dark denim.

Play up print and color with accessories — like a statement bag or shoe — to keep things interesting.

Try pairing the look with a bold lip. When I do this, I like to keep the rest of my makeup really clean and minimal, and let a bright liquid lipstick or shiny red gloss be the statement.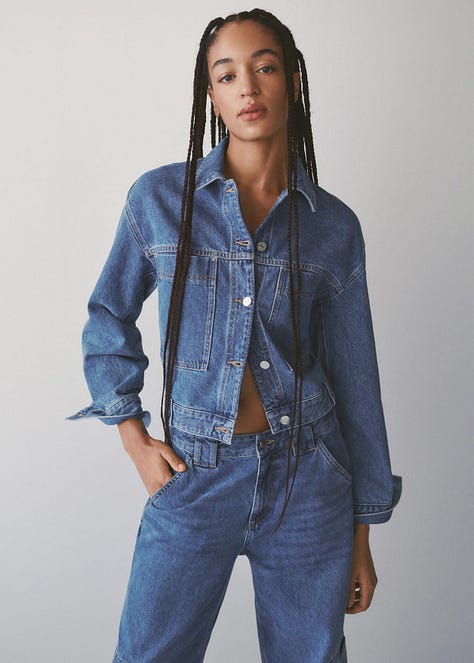 2. Add A Blazer Layer
When I need to elevate to business casual for a special meeting or event, I throw a blazer over my usual jeans + tee/tank. I find that balancing proportions is the key to making a blazer outfit look modern and fresh. For instance: slim fit blazers (like Veronica Beard's classic jacket) pair well with long slim jeans or flares; boxy boyfriend styles go well with classic skinnies, or high waist straight leg jeans that are slightly cropped at the ankle; and cropped blazers that hit around the waist balance well with wide-leg bottoms.
I recommend starting with at least 2 neutral blazers in different styles; preferably navy, black, or gray plaid or houndstooth. Then add a wildcard, like a cropped style in a fun pop of color. These will go a long way in your wardrobe remixing!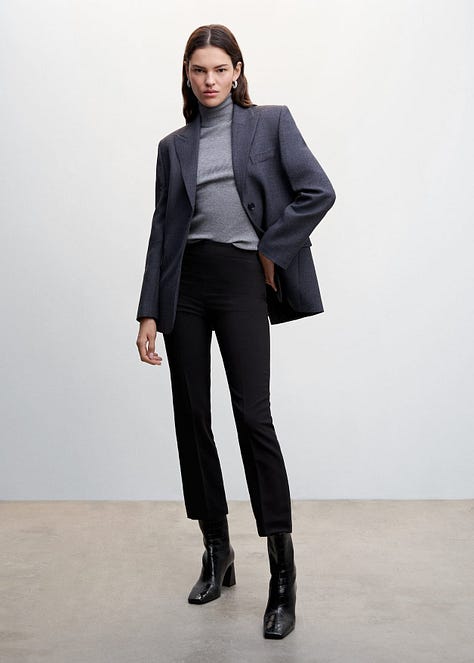 3. Monochromatic Moment
This is my go-to combination for spring and summer, but it works year-round. Whether it's a coordinated set (like this linen top and pant) or basics in matching tones, I really love a monochromatic outfit. This is one of the benefits of a wardrobe filled with neutrals: you have endless possibilities for tone-on-tone looks.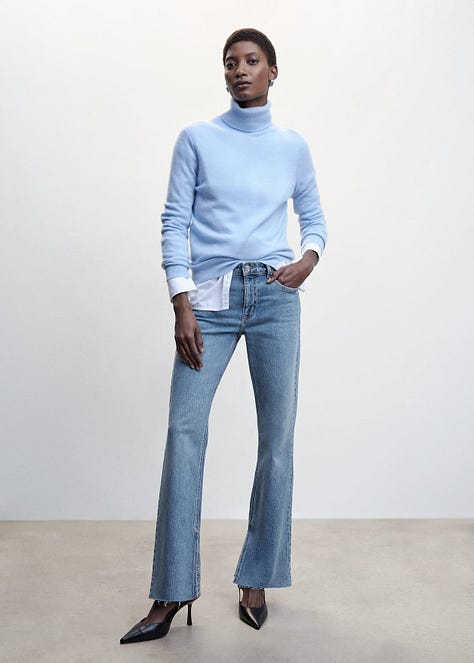 4. All Black Everything
The older I get, the more I understand the appeal of a closet filled with black, black, black. A head-to-toe black outfit is slimming, chic and so effortless. My weekday iterations usually include a base of charcoal wash denim — it fades less noticeably and looks better for longer than true black — and casual black ponte knit pants or high waist leggings.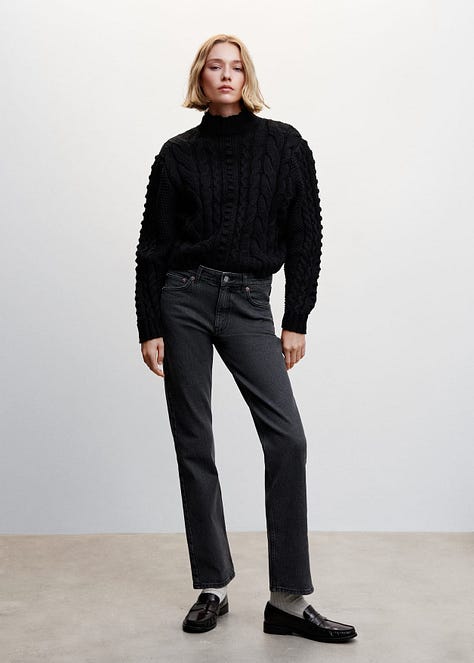 5. The Classic
You can't go wrong with a crisp button-down and jeans; it's a timeless combination for a reason. I prefer a little room and drape in my shirts, so I always size up for a relaxed boyfriend fit. If it's in your budget, have your shirts dry cleaned for that satisfying starched & pressed finished. It will help your shirts last longer vs. machine washing and you'll feel instantly fancier when you put them on.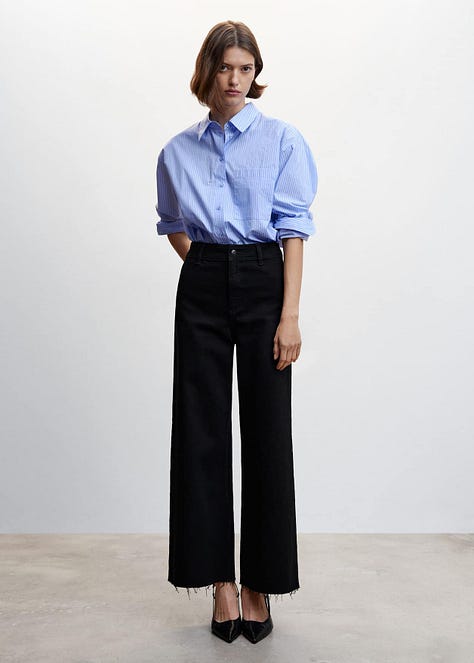 . . .
For more everyday style inspiration, check out my 'Casual' Pinterest board that's filled with over 1500 outfit ideas! And to shop the images from this note, click here.
This note contains affiliate links. I may earn a small commission from the retailer if you make a purchase from these links, at no cost to you! Thank you for supporting this newsletter.
Thanks for reading Passing Notes! Subscribe for free to receive new posts and support my work.